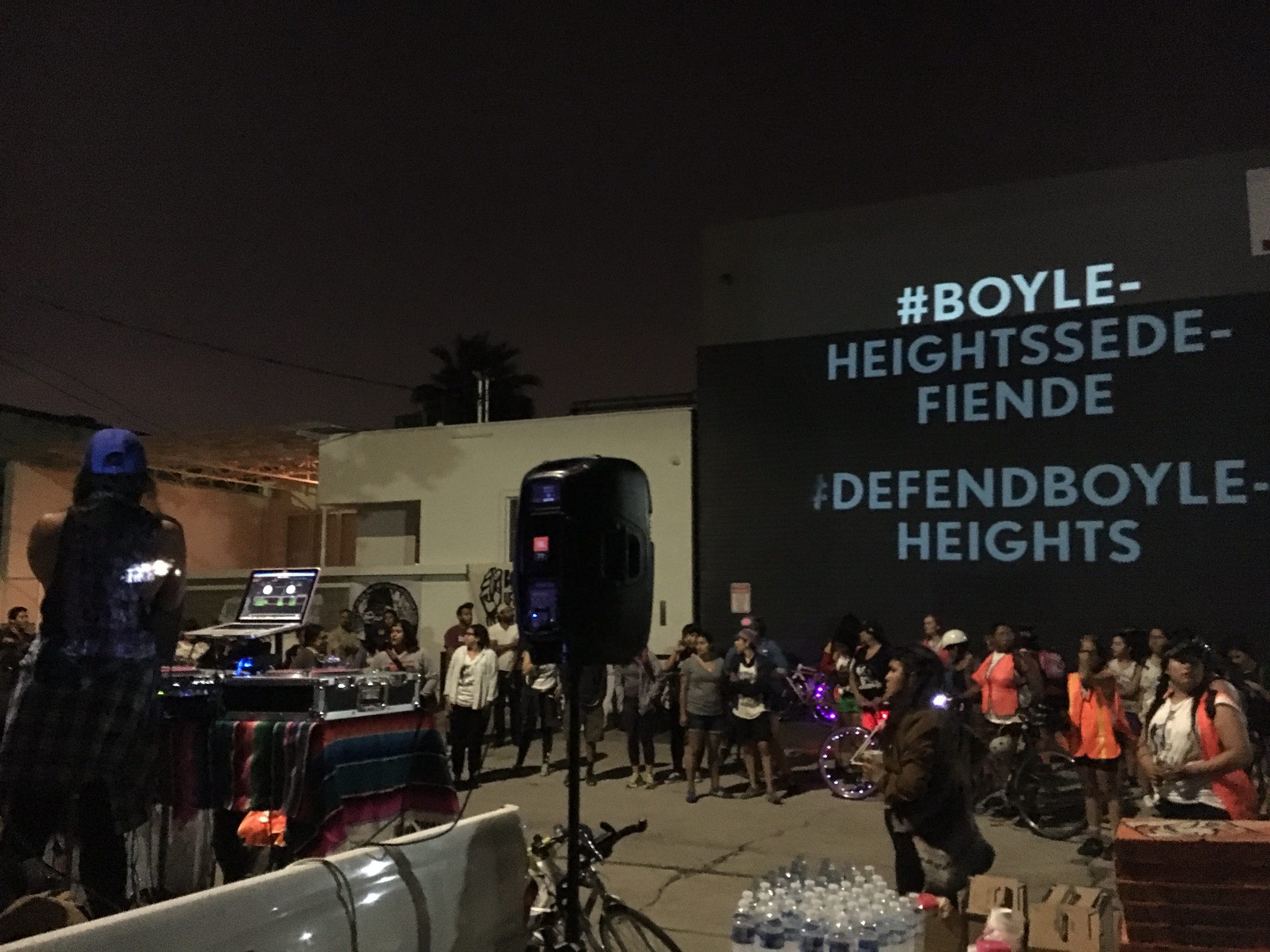 The current struggle against gentrification and artwashing in Boyle Heights has intensified since November of 2015, when community residents along with Serve The People-Los Angeles protested after the performers of the Hopscotch opera forced the Roosevelt High School marching band from their usual rehearsal space. In response, activists gathered at the site to demand that the opera leave Hollenback Park. What started as a sudden but righteous response to gentrifiers' assumption that they can take up space in the barrio is growing into a multi-ethnic, multi-generational, and tightly organized resistance against the forced removal of the working poor in a historically immigrant neighborhood. Make no mistake: the anti-gentrification movement in Boyle Heights will keep growing as a formidable opponent against greedy real estate agents, developers, landlords, ICE, their friends in the Los Angeles Sheriff Station, local and city officials, and anyone else who enables gentrification at the expense of the most marginalized in society. And make no mistake: this is the reason for the existence of the Boyle Heights Alliance Against Artwashing and Displacement (BHAAAD).
BHAAAD is a coalition that comprises members of Union de Vecinos, Defend Boyle Heights, School of Echoes, the Los Angeles Tenants Union/Sindicato de Inquilinos de Los Ángeles (Eastside Local), and artists who work within these groups, among others. (For those who are looking for more information, please see Defend Boyle Heights' FAQs and BHAAAD's "A Short History of a Long Struggle.") We are locals and friends distressed by the support that institutions like Self Help Graphics and Art, Councilmember José Huizar's office, Mayor Eric Garcetti, LAPD, and ICE all give to gentrifiers.* We are brown, Black, white, immigrant, trans, Asian, queer, and indigenous artists frustrated with our colleagues willfully accepting developers' money to fatten up their CVs and wallets.
Artwashing and gentrification are contemporary symptoms of colonization, and Boyle Heights occupies Tongva land to this day. We know solutions exist to decolonize Los Angeles. Members of our coalition are lobbying daily for actual affordable housing and economic measures that support the low-income, working-class, and homeless in Los Angeles. Blocks away from 356 Mission, mariachis and tenants are participating in a rent strike to stand in solidarity with those who have received eviction notices. Frank BJ Turner, the owner of the building at 1815 E. 2nd St, has raised the monthly rents by amounts ranging between $550 and $800. We register the campaign of perpetual violence enacted by the LAPD—which has ended the lives of our neighbors Omar Gonzalez, Fred Barragan, Edward Angel Ramirez, and Hernando Rubalcaba, as well as three local teenagers: Jesse James Romero, Jose Juan Mendez, and William Alexander Mejia—and by ICE, whose increased presence in Los Angeles compels undocumented immigrants to organize and utilize direct action tactics against their oppressors.
Ignorant gentrifiers, reactionaries, boycott violators, and alt-right trolls enjoy singling out individuals organizing with our coalition and misidentifying them as wealthy, white "outside agitators" with manipulative personal vendettas. In an attempt to discredit the efforts of anti-artwashing organizers in Boyle Heights, activists have been doxxed and alt-right trolls touting their "free speech" rights have swarmed around these falsehoods. Such misinformation is circulated and endorsed by the gentrifying Boyle Heights galleries (especially the staff of 356 Mission and former PSSST board members), their supporters, and so-called community "leaders" who benefit from artwashing and gentrification (such as those at Self Help Graphics). The bizarre myth regarding the anti-gentrification struggle in Boyle Heights not only invisibilizes the labor of the POC activists, artists of color (like the mariachis on rent strike), working poor, and undocumented and immigrant families who defend Boyle Heights, but also erases the history of the anti-displacement struggle that has been led for decades by the women of Pico Gardens and Aliso Village.
The racist myth of the "outside agitator" predates the struggle in Boyle Heights, and stems from centuries of Black-led rebellion in this country, by those who refused to passively accept the exploitation and segregation crafted by white supremacy. From the involvement of white freedom riders in the civil rights movement of the 1960s to the uprisings in Ferguson, Missouri, "outside agitators" have been accused of disturbing the peace. Martin Luther King, Jr. and the NAACP were also branded as such. Again and again, we stress that our demands originate from the mothers who organized to make their streets safer for their children, educated themselves and others on our housing rights, and organized swiftly with limited to no support from the state and its institutions. Their efforts with Union de Vecinos and the establishment of the LATU/SILA, which is emerging as a formidable voice for renters' rights in the city, signal a shift in power between landlords and tenants, the working class and politicians, everyday people and the business and art world élite. It is absolutely racist to foreground the work of white people in this intersectional movement.
The election of Donald Trump has ushered in a developer presidency, backed by active fascists and white supremacists who want to "take their country back." Trump's influence was undoubtedly shaped and backed by his holdings in real estate (as the Queens Anti-Gentrification Project details in "Why Fighting Gentrification Is Connected to Fighting Trump"). Even prior to his inauguration, after which our stakes in the neighborhood struggle heightened, the community of Boyle Heights was prompted to take action against the encroachment of speculative real estate development—which is now being fast-tracked by the successful 2028 Olympics bid—and the increasingly aggressive surveillance state. Art galleries continue to work with real estate developers to cultivate another Los Angeles "art district" for the consumption of wealthy property owners, while displacing the working-class Latinx community that constitutes 95% of the neighborhood population—of which almost 80% are renters. Defend Boyle Heights called for the boycott against all the art galleries in the warehouse area of Boyle Heights and the firing of Joel Garcia of Self Help Graphics over one year ago, and time is running out to "have a conversation"—which the galleries have abandoned. On May 24, 356 Mission met with the coalition and the women of Pico-Aliso, agreeing to vacate the premises, only to cancel a follow-up meeting scheduled for June 14, where they were to address when they would be leaving Boyle Heights. The gallery has since failed to respond to our request to reschedule.
Our tactics and strategy, which are already diverse and consist of more than the boycott, are not up for approval. The us-versus-them binary was established by the galleries and other gentrifying agents, who stay and continue to plead for "dialogue" but fail to propose solutions to resolve the crisis of gentrification, and have even called the police when protesters ask for their voices to be heard. The boycott asks players of the art world to hold themselves accountable for the material violence they have wrought on Boyle Heights residents. The boycott is also an act of refusal: refusal to defer to the galleries and their real estate co-conspirators who bathe in the myth of art-as-exceptionalism, refusal to give up space to those that have so much already, refusal to assimilate, refusal to participate in systems that oppress and dispose of the marginalized folks in this community, refusal to succumb to nihilist chants of "inevitability," and a basic refusal to be erased.
Boyle Heights has a long history of organizing against white supremacy, as evidenced by the 1938 Anti-Nazi rally spearheaded by the Jewish Federation Council of Greater Los Angeles, who recognized the need for a broad, multi-ethnic coalition after the massacres of Kristallnacht. Numerous groups, which included immigrants, African Americans, Asian Americans, and Mexican Americans, gathered to protest against fascism, racism, and anti-refugee sentiment that was also brewing in the United States. The Latino-Jewish historian Barrio Boychik summarizes: "This partnership between Jews and with other minority groups beginning with their fight against fascism and their public education campaigns against racist ideologies in those pre-war years constituted one of the first major joint effort in civil rights activism between the communities." Likewise, BHAAAD has always incorporated members of various local, national, and international affinity groups, including white accomplices and artists who understand the oppressive narrative of assimilation and the desperate need to dismantle white supremacy. Those who lend solidarity to our cause reject the hegemonic ideals of the "creative class," which create "economic growth only for the already rich, displacing the poor and working classes." We are proud of our efforts in building such a strong, effective group of anti-gentrification fighters who are successfully working together to shake up and dismantle this damn system! Why are opposing artists and gentrifiers (many of whom espouse anti-racist, anti-capitalist ideologies) so unwilling to bring the meaning and implications of their stated politics under self-reflexive scrutiny, to admit they have refused to see their own complicity, that they were mistaken in thinking their effect on the neighborhood was benign, or even benevolent? When will they join us? Our only wish is that other potential accomplices will divest from their respective institutions of power and build solidarity with the existing anti-gentrification coalition in Boyle Heights.
*October 17, 2017: a previous edition of this text was published with an error. BHAAAD recognizes the work of Homeboy Industries in Boyle Heights and apologizes for categorizing them with gentrifying institutions in the neighborhood.
For more coalition statements:
http://alianzacontraartwashing.org/en/coalition-statements/