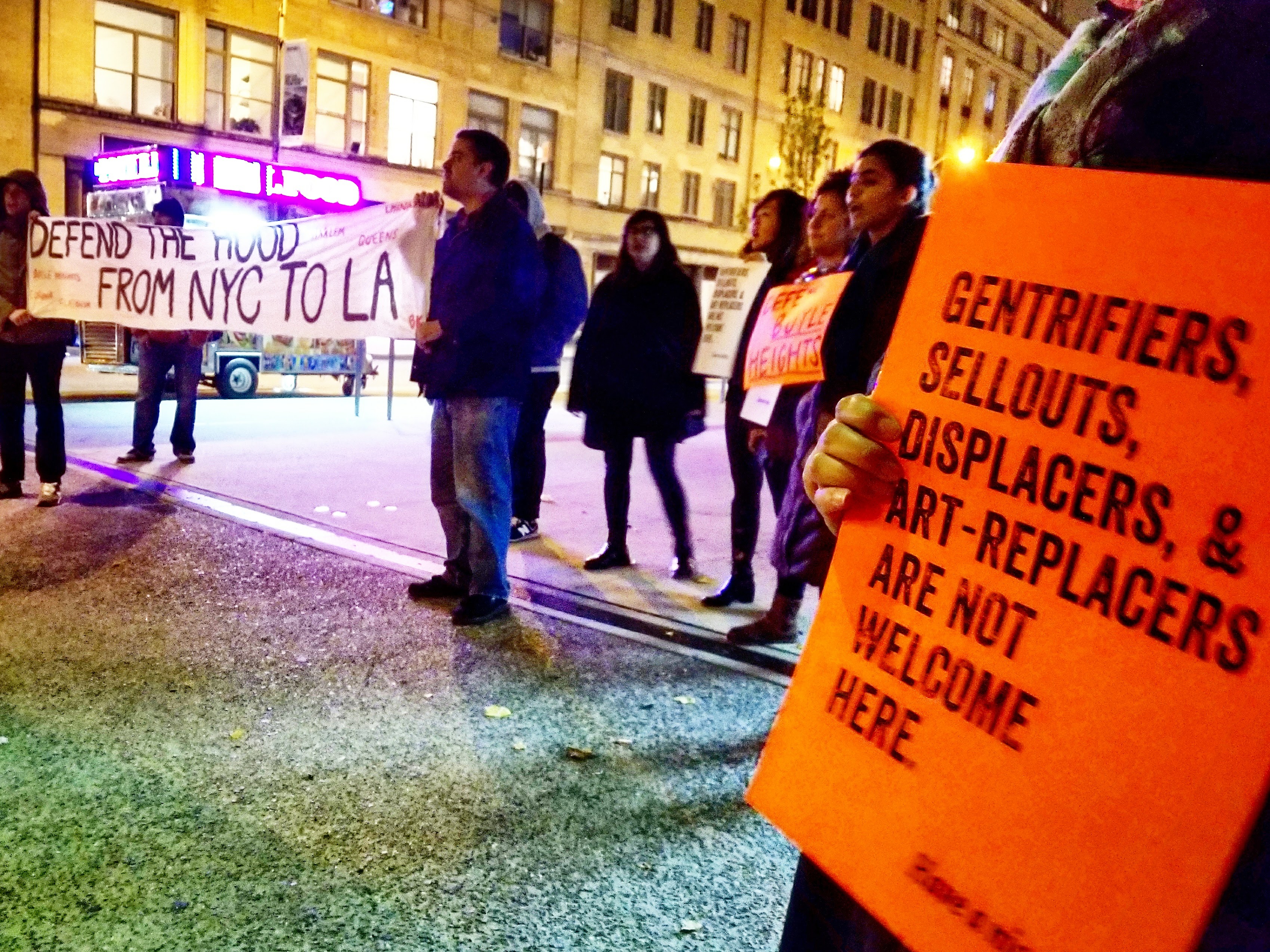 Who is DTP?
A collaboration between cultural producers and grassroots organizers across struggles and borders. Many of us are artists who, like Laura Owens, depends on art institutions and galleries to provide and support our livelihoods. The difference is in accountability and action by and for the people.
Why is DTP here?
1) To connect the pieces
2) To enact solidarity
Decolonize L.O. and G.B./Artists + Gallerists
Laura Owens and Gavin Brown are greedy as fuck. Financial means to be ANYWHERE in Los Angeles, in New York, and around the world. However, they choose to DISPLACE low-income POC communities like Boyle Heights, Chinatown, and Harlem to build their own enterprises.
Decolonize Whitney Museum/Cultural
Institutions + Developers
"We are here to connect the Meatpacking District, the High Line, Chelsea, and the Whitney Museum with the Boyle Heights Industrial Zone, the Sixth Street Bridge, Gallery Complexes, and Museum Development and Expansion Projects." -Defend Boyle Heights
"Since the 2000s, the Meatpacking District has transformed from an industrial warehouse district that provided jobs for working-class people and served as a hub for Manhattan's queer and trans community, into a "hyper-luxurious" playground for tourists and the art world, creeping down from the adjacent gallery district in West Chelsea. The Whitney Museum moved from the Upper East Side to the Meatpacking District in 2015. Projects like the gourmet Chelsea Market and the High Line now draw about six million visitors a year." -Defend Boyle Heights
The model of the "hyper-luxurous" playground is perhaps most extreme on Saadiyat Island in Abu Dhabi, where institutions such as Guggenheim, Louvre, and NYU sold their brand to the man-made island to attract tourists and the elite from around the world. These institutions are built on the backs of exploited, indebted, migrant workers of color, who face inhumane living conditions as a direct result of inhumane working conditions.
What do these seemingly disparate locations have in common? The white and the rich using art and culture as a vehicle of displacement and further exploitation of low-income people of color.
Solidarity
From LA to New York, this joint city action will also signal to gentrifiers across the nation that any "pioneering" ventures will be met with hard resistance from our communities.
They try to divide us. White supremacy permeates all aspects of our displacement. Which further divides us. Solidarity fucks their shit all up.
November 2017
Decolonize This Place