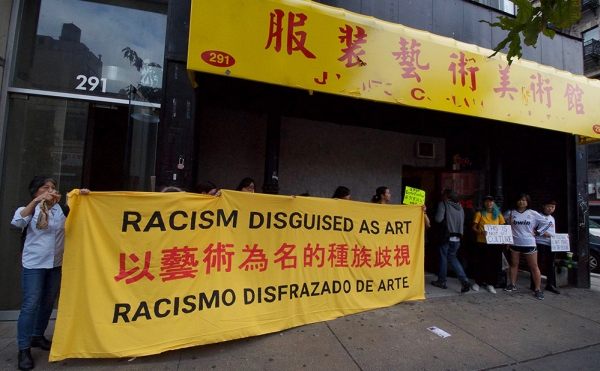 As in Manhattan's Chinatown, almost 80% of the residents of Los Angeles' Boyle Heights are renters. In both cities low-income, working-class communities have fought for decades against shoddy governmental policies that primarily benefit wealthy property owners. Speculative markets, including art and real estate, continue to extract valuable resources from these urban neighborhoods built on the backs of marginalized POC residents. The action organized by the Chinatown Art Brigade on October 15th in protest of Omer Fast's repulsive exhibition at the James Cohan Gallery, located in the historically resilient Manhattan enclave, was another brilliant act of resistance against claims that gentrification is inevitable. Across the country, we are also fighting to preserve and protect our cultures from erasure and the ongoing processes of colonization.
Fast won't own up to being a racist, with more privilege to spout and "express" Orientalist musings that reveal his white supremacy. Like other clueless members of the creative class, Fast is simply sorry that "some persons find the installation insensitive or offensive." No shit. We're infuriated when we see that not only are our communities being displaced by the collusion between crappy white-cube galleries and real estate developers, but also that "professional" artists still insist that their forms of expression and exhibition are more legitimate than those whose art and culture exist outside the boundaries of the exclusive, hierarchical institution of the art world.
The cycle of accruing social and cultural capital from the trauma of others is exasperating. Fast also materially benefits from media attention, in addition to the representation by the James Cohan Gallery and the opportunity to present a solo exhibition. He instead uses his privilege to portray Chinatown as an irrevocably broken place. The vibrant Chinatown community and those who stood in solidarity with their cause showed the complete opposite, and further justified their need to fight back.
With the rise of anti-gentrification movements that are building power across the country, we have seen this troubling and bizarre rhetoric of "free speech" used to decry "censorship" and claim entitlement. In his response to the community action Fast literally paints a community of Asian American activists and organizers as neo-Nazis. This false equivocation is absurd and violent on so many levels. It demonstrates—again—the unwillingness of the art world to listen and to learn from the communities who are actually at stake, and to WORK to produce change. They operate under the delusion that if they ignore us we will quietly disappear.
Our critics accuse us of being divisive and wanting attention. How can we get others to take a stance and fight for those who have been further devastated under this oppressive regime? By taking action and getting your attention. Marginalized individuals and communities affected by centuries of colonization and oppression can no longer stand by cultural genocide. We firmly support and are inspired by the actions of Chinatown Art Brigade, CAAAV: Organizing Asian Communities, and Mothers on the Move, who are working to challenge and reverse the processes of gentrification in conjunction with numerous accomplices and allies. From the Mariachi on rent strike in Boyle Heights—who just this last weekend succeeded in getting a seat at the negotiating table with their slumlord—to the artists and residents in Chinatown running racists out of gentrifying galleries, the resistance against artwashing and displacement is rapidly blooming.
In solidarity,
B.H.A.A.A.D.
Boyle Heights Alianza Anti Artwashing y Desplazamiento
Boyle Heights Alliance Against Artwashing and Displacement