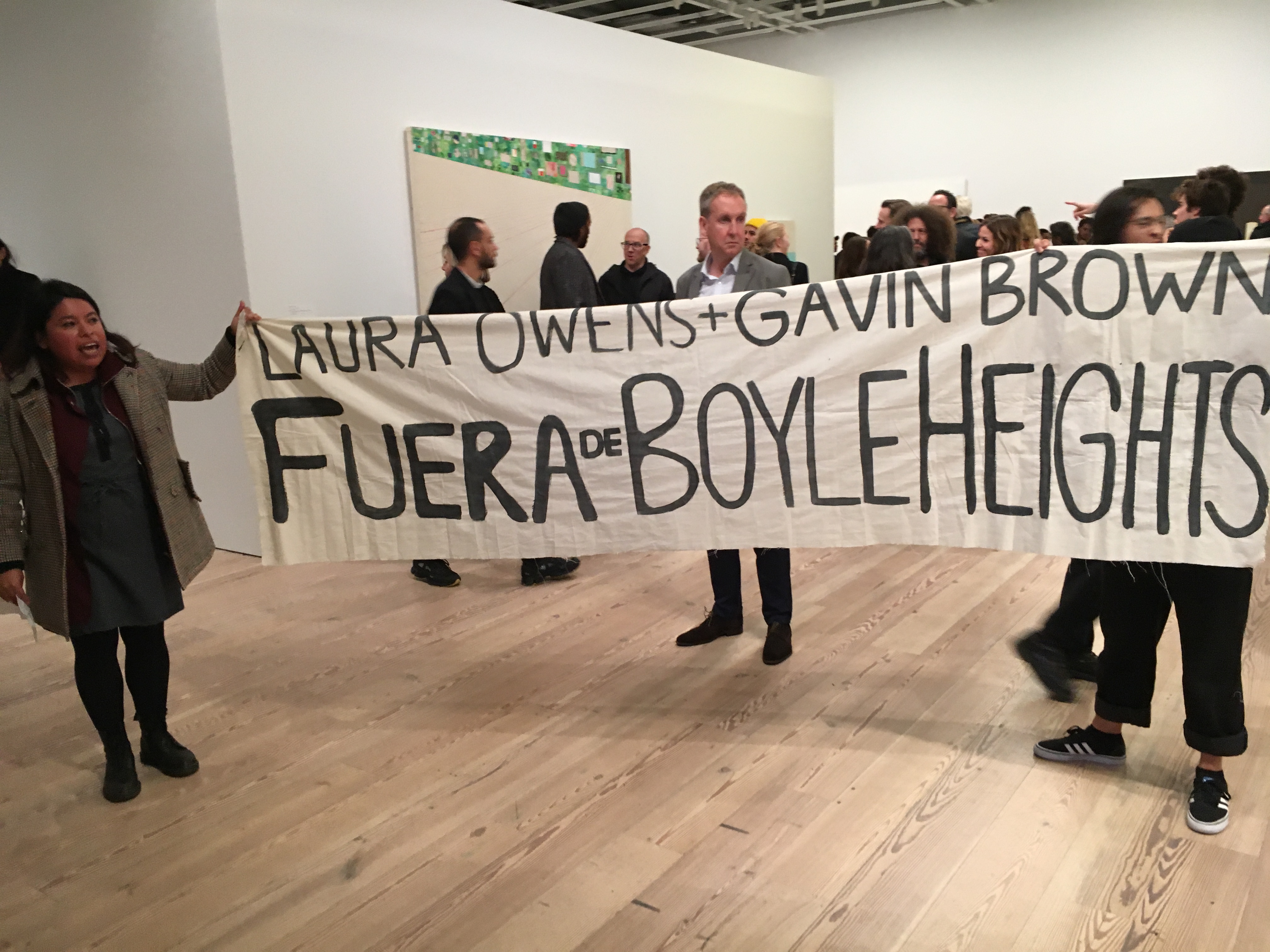 Who Is Laura Owens?
She is a painter based in Los Angeles, represented by the New York-based blue-chip gallery Gavin Brown's enterprise.

In 2013 she turned her 12,000-square-foot studio in Boyle Heights into the gallery 356 Mission, bankrolled by Gavin Brown. Many have called the gallery a "pioneer" of artist-run spaces in Boyle Heights. Since her arrival, wealthy galleries from Maccarone to Venus over Manhattan have followed in her footsteps and have expanded their empires into the West Coast into our hood.
Owens's career has also benefitted greatly due to her relationship with this space. In 2014 her drawings and paintings sold for between $15,000 and $175,000. On November 8, she will be having a retrospective at the Whitney Museum, which will further raise the value of her work.
Who Is Gavin Brown?

Gavin Brown is a gallerist from London. The Guardian named him one of "the most powerful people in the art world" in 2014. A high-performing art dealer, Brown sells art that reliably increases in value, regardless of the general economic conditions, as a hedge to diversify the portfolios of his unimaginably wealthy collectors. His gallery represents about 40 international artists, only 4 of them are POC.
Brown supports Laura Owens by renting 356 Mission from Vera Campbell, who is responsible for major artwashing developments across Los Angeles. In 2014 Brown also opened an auxiliary space in Manhattan's Chinatown, a resilient immigrant community described as "backwater" by a journalist who covered the opening. Two years ago, he moved his enterprise from the West Village to a 3-story building in Harlem, which he purchased. He called the former brewery space "soulful" and "an urban secular cathedral." He owns another property near the gallery where he lives. Since his move, historical landmarks such as the Lenox Lounge have been demolished and a Whole Foods supermarket has set up shop in the neighborhood.
What Is Happening?

More than a year ago, members of Defend Boyle Heights and the Boyle Heights Alliance Against Artwashing and Displacement (B.H.A.A.A.D.) launched a boycott against all galleries in Boyle Heights, and organized a series of public actions against the growing number of galleries in Boyle Heights, including 356 Mission. In July 2016, at the courtyard of Pico Aliso Public Housing, multiple generations of Boyle Heights residents spoke face to face to the staff of the galleries, including Ethan Swan, the manager of 356 Mission, asking them to leave. An official picket line was drawn in February 2017 during the offensive neoliberal Artist's Political Action Network meeting, which was established by the Los Angeles art world élite.
On May 24, 2017, a smaller delegation met with 356 Mission and made a plan to meet 2 weeks later to discuss how and when 356 Mission would leave Boyle Heights. Laura Owens postponed the scheduled follow-up meeting due to a family emergency. The community waited patiently for her to return with her promise.
We never heard from her since. 356 Mission continues to ignore the community's demand to leave and continues their programming. Despite this, the community has also succeeded in shutting down multiple programs at the gallery, from Ruth Root's exhibition opening to Chris Kraus's book launch.
Why the Action?

Laura Owens and Gavin Brown have the financial means to be ANYWHERE in Los Angeles, in New York, and around the world. However, they choose to take advantage of low-income POC communities like Boyle Heights, Chinatown, and Harlem to build their own enterprises. They continue to deny their role in the ongoing gentrification of black and brown neighborhoods, and refuse to take community demands seriously. If the galleries relocated, it would send a message to real estate developers that Boyle Heights is not a blank canvas where they can do whatever they want.
From LA to New York, this joint city action will also signal to gentrifiers across the nation that any "pioneering" ventures will be met with hard resistance from our communities.
Connecting the Meatpacking District, the High Line, Chelsea, and the Whitney Museum with the Boyle Heights Industrial Zone, the Sixth Street Bridge, Gallery Complexes, and Museum Development and Expansion Projects
Since the 2000s, the Meatpacking District has transformed from an industrial warehouse district that provided jobs for working-class people and served as a hub for Manhattan's queer and trans community, into a "hyper-luxurious" playground for tourists and the art world, creeping down from the adjacent gallery district in West Chelsea. The Whitney Museum moved from the Upper East Side to the Meatpacking District in 2015. Projects like the gourmet Chelsea Market and the High Line now draw about six million visitors a year.
In February 2017, the High Line founders openly admitted that their project has failed:
"Locals aren't the ones overloading the park, nor are locals all benefiting from its economic windfall. The High Line is bookended by two large public housing projects; nearly one-third of residents in its neighborhood, Chelsea, are people of color. Yet anyone who's ever strolled among the High Line's native plants and cold-brew vendors knows its foot traffic is, as a recent City University of New York study found, 'overwhelmingly white.' And most visitors are tourists, not locals."
The High Line has become the blueprint for many gentrifying park and recreation developments nationwide that combine high-end galleries with hipster public parks, with gourmet food markets and "starchitect" museums. In fact, this is the exact vision of the development of Boyle Heights' industrial zone and the Sixth Street Bridge.
Who stands solidarity with us?
Chinatown Art Brigade, East Harlem Preservation Coalition, East Harlem No Se Vende, Take Back the Bronx, Defend Corona, Queens Is Not 4 Sale, ICE FREE QUEENS, Queens Neighborhoods United, Mi Casa No Es Su Casa, Decolonize This Place, SPARC, Equality for Flatbush, Peoples Power Assembly Queens, Peoples Power Assembly Manhattan, Mothers on the Move, Brooklyn Hi-Art Machine, and more.
What Do We Demand?
Laura Owens and Gavin Brown, Fuera de Boyle Heights!
356 Mission must leave and turn over their keys to the community!
November 2017
Defend Boyle Heights + B.H.A.A.A.D.