It is with great joy for the residents of Boyle Heights that we celebrate the news that 356 Mission is doing the only righteous act they could do for the neighborhood: pack up their shit and leave forever.
This is a definite victory for Defend Boyle Heights, BHAAAD, Union de Vecinos, and all other organizations resisting gentrification in Boyle Heights. We will not allow this victory's impact to be diminished by any news agency or gentrifiers who constantly fail at stopping our resistance.
On this important occasion, BHAAAD, Defend Boyle Heights, and Union de Vecinos raise our voices to thank everyone who has supported and continues to support our actions. We thank all our accomplices in New York who helped us to bring the fight directly to Laura Owens, Gavin Brown, and their conspirators at the Whitney Museum. This includes the Take Back The Bronx, the Brooklyn Anti-Gentrification Network, Arts & Labor, People's Cultural Plan, ICE FREE QUEENS, Mi Casa No Es Su Casa, East Harlem Preservation Coalition, SPARC, People Power's Assembly Queens, and People Power's Assembly Manhattan, Chinatown Art Brigade, Decolonize This Place, Equality 4 East Flatbush, Defend Corona, Queens Anti-Gentrification Project, and Mothers on the Move. They will forever have our solidarity in fighting artwashing and displacement in their neighborhoods. We hope this uncompromising spirit reverberates to the New York based groups and that they forcefully run out Gavin Brown's two galleries in Chinatown, Harlem, and his multi-million-dollar residence in Harlem.
We thank all the artists and art workers who withdrew their support from 356 Mission and are now unwilling to scab, and we continue urging others to take action and fight in solidarity with the hood. Thank you to Ambar Navarro, who in February of 2017 cancelled a scheduled screening as an act of solidarity with Boyle Heights. Thank you Nizan Shaked for daring to set a principled example for your colleagues and refusing to cross a picket line at the Artist Political Action Network's failed meeting in the gallery. Thank you to their former interns and unpaid staff who revolted against the gallery's exploitation of their free labor and chose solidarity with immigrants, working class families, and the hood over 356 Mission. Thank you to all the noiseheads, punks, and artists who successfully stopped Oxen Record's attempt to host Hijokaidan at 356 Mission on June 2017. We thank everyone who upholds the boycott against all the art galleries in the warehouse area of Boyle Heights, and rejects the model of art as cooperating with the culture vultures, hipster vampires, and tiny Trumps. Without you all, ending 356 Mission's role in turning the hood into a haven for gentrifier artists could not have been possible.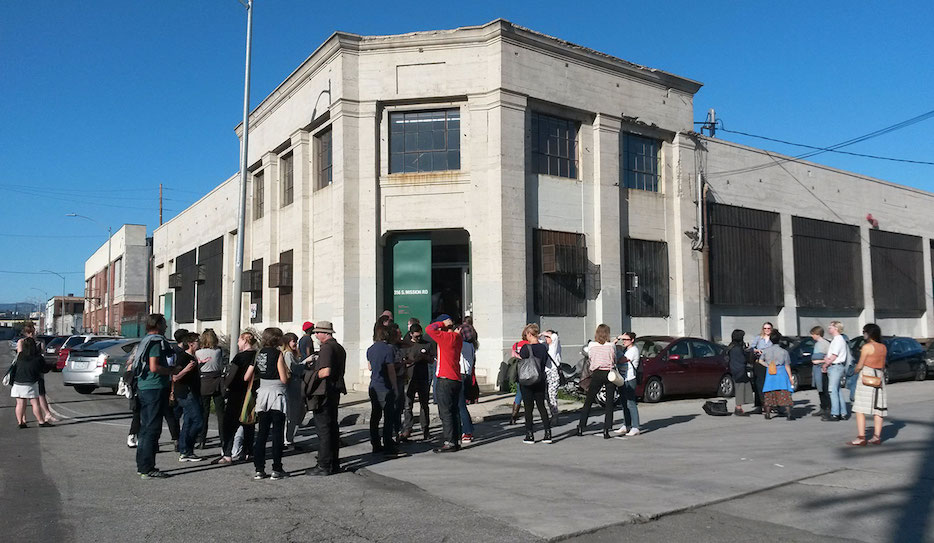 Our organizing is working. And our organizing will continue: we will not stop until the rest of the gentrifying galleries and opportunistic speculators are removed from Boyle Heights.
This isn't a time to rest on our laurels; it's a time to continue our work and expand our analysis. The only thing that will stop gentrification is a constant, militant, and disciplined group of residents, allies, and supporters dedicated to defending a neighborhood for the most marginalized by absolutely any means.
It is unsurprising that high-intensity gentrifiers like Laura Owens, Wendy Yao, and Gavin Brown are still using the media, including the police apologist Los Angeles Times, to brazenly deny their role in gentrification, artwashing, and the terror displacement unleashes on immigrants and working-class people. It is unsurprising that Gavin Brown continues to remain silent and hide behind Owens and Yao, despite the fact that he has always funded the gallery's existence — Laura admitted this to us under pressure when 356 staff met with us. 356 Mission is following in the footsteps of PSSST, who also closed after the constant pressure, popular education, and militancy from residents and artists in the community. They are all departing, not by choice, but because they never belonged here.
Laura Owens and multi-millionaire art dealer Gavin Brown leased 356 S. Mission Road in 2012 from clothing manufacturer and real estate mogul Vera Campbell and Boyle Heights Properties, LLC. In 2013, the year after Boyle Heights was designated an "arts district" by the city, thanks to councilmember Jose Huizar, who continues to be silent when it comes to speculators and developers role in gentrification, but is always ready to denounce protest against gentrification. Owens launched her Los Angeles presence by exhibiting her own paintings in the space. She said, "I was reminded, coming here versus going to some other big gallery space, that I'm always thinking of money. And the idea of commerce that I take with me through those doors is different than the idea of commerce in here. But I realize the art has to be for sale, right?" In January of that year, Wendy Yao was invited to expand her gentrifying bookstore from Chinatown to Boyle Heights: "Yeah, we invited Wendy Yao to come here and open another Ooga Booga… It's something we thought might work in the neighborhood because there's a lot of studios near here. So people come by, take a break from their art, look at some books." Owens, Yao, and Gavin Brown do not care about long-term Boyle Heights residents. 356 Mission was not for immigrants living in the neighborhood, nor for the families of Pico-Aliso. It was for the new wave of people displacing them.
In June 2017 BHAAAD, Defend Boyle Heights, and Union de Vecinos met with Laura Owens and the staff from 356 Mission to discuss our demands. We explained to them why we were boycotting all galleries in Boyle Heights and, more importantly, we offered them an exit plan. Instead of working with us, Owens, Yao, and 356 manager Ethan Swan ridiculed the plan and worried aloud about possibly losing their health insurance. They were concerned about themselves and the fictitious "community" they claim to serve.
We planned a second meeting with the staff of 356 Mission, but they opportunistically dropped all communication after postponing the meeting due to a family emergency on their end. Neither Owens, Yao, Swan, or Brown ever reached out to BHAAAD, Defend Boyle Heights, or Union de Vecinos to negotiate anything ever again. Any claims to the contrary by Laura Owens and staff is another opportunistic lie propagated by media outlets that prefer to believe wealthy white people over a community of immigrants, the working poor, and their countless allies.
Soon after our meeting, a recklessly created Facebook page called DBH from DBH published inaccurate and hateful statements about several people working to combat gentrification. The page was clickbait for the alt-right and was frequently cited on 4chan and other underground white supremacist forums. We believe 356 Mission used this page as a propaganda front, to portray us as a "discredited movement" to artists hesitant to work with them. Interestingly, this page ended simultaneously with Owen's close friend and 356 Mission artist Michael Webster's removing himself from Facebook. We see the use of this trolling Facebook page as situated within a well-known history of racist gestures that reattribute POC and working class rage to a "small white elite" in an attempt to disempower that very legitimate rage. In the process, a mass of people of color involved in the movement are erased in the interest of protecting whiteness.
As we observe the larger struggle and the role these galleries and their lackeys played within it, we see that those involved with 356 Mission are props for Vera Campbell's vision of Boyle Heights. And what is Vera Campbell's vision? She just finished flipping a former multi-floor garment factory into the Institute of Contemporary Art, Los Angeles. She is currently attempting to open a high-end restaurant directly across from the former site of 356 Mission and Maccarone gallery, with the help of her land-use attorney and fellow Self-Help Graphics board member Alfred Fraijo, Jr. Union de Vecinos and the Resident Advisory Council of Pico Gardens and Las Casitas, along with Defend Boyle Heights, are working tirelessly to halt the intrusion of Campbell's gentrifier amenity.
We have a different vision. What if we turned PSSST into a laundromat or a bodega for low-income families — or whatever the nearby families decide they want? What if we turned 356 Mission into a resource center for homeless neighbors? What if the whole block of galleries — and then the rest of the neighborhood — could revert to community control? Boyle Heights is a community that has mastered the fine art of survival. We are already making the impossible happen, and we will not stop until all gentrifying galleries get the fuck out of Boyle Heights. The next question to fulfill our vision: WHO'S NEXT?